DP2 Wrist Brace
Login For Dealer Pricing
Product Attributes
| | |
| --- | --- |
| Size | M/L, XL/XXL, XS/S |
| Left or Right? | Left, Right |
Cock-up Wrist brace for carpal tunnel syndrome and more
The BioSkin DP2 Wrist brace was designed to be the most comfortable and functional wrist brace ever.
Constructed with BioSkin`s patented Ultima 2s material, the DP2 features a thin layer of ultra-soft micro-fleece against the skin, which wicks moisture away from the body, keeping you cool and dry.
There are no laces and the straps don`t need to be threaded through loops to be tightened, so the brace can easily be applied with one hand.
Both dorsal and palmar stays are removable and can be reshaped by hand to customize the shape of the brace.
The DP2 is low profile and allows full use of your fingers, while limiting motion in the wrist to ease the pain caused by carpal tunnel syndrome, arthritis, sprains, and bursitis.
The 6.5″ BioSkin DP2  wrist brace provides relief from carpal tunnel syndrome and other common wrist injuries. The DP2 is right/left specific and you may obtain guidance on fitting it correctly from the video under the Instructions tab on this page.
The user of the brace can easily reshape the removable dorsal and palmar stays to provide a customized fit, thus optimizing the comfort of wearing the brace.  In addition, the user can easily apply the brace with one hand as it has no laces and the straps don't need to be threaded through loops to be tightened.
The DP2's Ultima 2SL™ material features a Velcro-compatible surface to enhance compression and flexibility in anchoring and closures. Like all Bio Skin materials, Ultima 2SL™ is hypo allergenic and 100% neoprene and latex free, thus eliminating the risk of adverse medical reactions and enhancing patient compliance. As emphasized in our overview of wrist braces, the ease with which the brace may be worn over prolonged periods is a critical factor influencing the likelihood of successful treatment outcomes.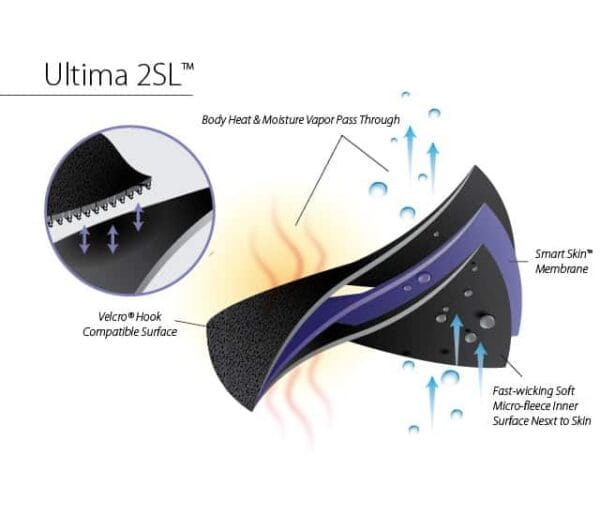 As with all Bio Skin braces, the BioSkin DP2 wrist brace features the patented SkinLok™ feature. This increases adherence to the skin in the presence of perspiration, thus reducing slippage during periods of intense physical activity. With the brace remaining firmly in its intended position, the DP2 will continue to be effective in reducing pain and promoting healing while your patients pursue their normal activities.
BioSkin DP2 Wrist Brace – Features and Benefits
Brace length, 6.5″
Low profile and comfortable
Allows full use of fingers and thumbs
Removable/bendable dorsal and palmar stays
Conditions and Indications
Carpal Tunnel Syndrome
Arthritis
Wrist Sprain
Bursitis
Please
login
to post questions