Thumb Spica
Login For Dealer Pricing
Product Attributes
The Bio Skin Thumb Spica controls motion in the CMC and MP joints by protecting the thumb against painful movements, while allowing full use of the fingers. Constructed with Bio Skin`s patented Ultima 2s material, the Thumb Spica features a thin layer of ultra-soft micro-fleece against the skin, which wicks moisture away from the body, keeping you cool and dry. The brace can easily be applied with one hand.
Relief from overuse or injury. This ultra low-profile brace protects the thumb from unwanted motion while allowing a full range of motion in the other digits. It is comfortable to wear and easy to apply with one hand. No laces!
The ultra low profile Bio Skin Thumb Spica has been designed to prevent unwanted motion of the thumb while allowing unrestricted range of motion for all other fingers. Restricting the motion of the thumb allows it to heal more quickly from a variety of injuries including bursitis, gamekeeper's thumb, de Quervain's and various thumb sprains or strains.
As with all Bio Skin braces, the Ultima 2SL material of which the brace is made is 100% latex and neoprene free as well as being hypo allergenic. This eliminates the risk of adverse medical reactions when the brace is worn over prolonged periods. As a result, patient compliance and the probability of a favorable treatment outcome are both improved.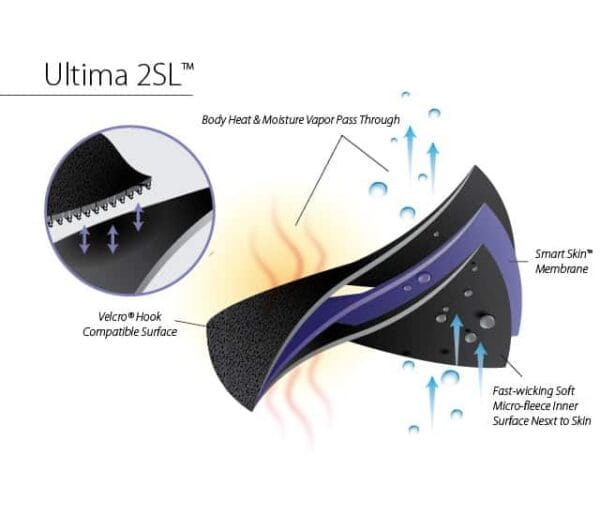 In addition to the beneficial impact on patient compliance resulting from the absence of neoprene and latex, the brace's effectiveness is further enhanced by the patented SkinLok™ feature. This increases friction against the skin in the presence of moisture (e.g. from perspiration, lotion or even water). As a result, the Bio Skin thumb spica will remain firmly in its intended position even during periods of intense activity. This is a critical factor influencing the probability of rapid and successful healing.
Features and Benefits
Controls motion of the carpometacarpal and metacarpophalangeal joints
Low profile
Universal left or right
100% neoprene free and latex free
Conditions and Indications
De Quervains
Game Keeper's Thumb
Bursitis
Sprains and Strains
In addition to being comfortable to wear, the brace is designed to be applied with one hand. For guidance on its proper application, please consult the video on the Instructions tab of this page.
Product Questions & Answers (1)
Q – can you suggest a brace for abductor thumb tendinits ( Oarman thumb) that does not have a metal stay in the thumb.
A – Most of the thumb braces have the stay in the thumb. The thumb spica in Bioskin, you can take out(I believe>would have to check) Would this do?
Q – yes wha t is the sku #?
A –  54502 xs/md o r54505 lg/xxl. 
Q – can you order for 6 1/2″ wrist?
A – The thumb spica you measure from the wrist crease to the cuticle(approx.) on your thumb.
---
Please
login
to post questions