Examination Table Paper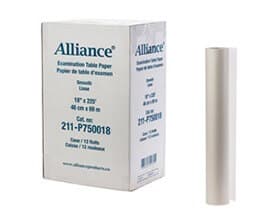 Examination table paper supplies are an important way for you to reduce the spread of communicable illnesses among patients visiting your medical facility.
The paper should act as a barrier between the patient and the treatment table he is using. It serves to prevent the spread of infection through cross contamination.
Table paper is also a way to protect any clinic furniture used by patients from oils, gels and creams they may use during treatment. It is therefore a way to cut down on wear and tear of your furniture and maximize your return on your investment.
What To Look For In Table Paper
Some of the features that you should probably look for in choosing your table paper are:
Paper Material
The paper should be made from a high quality pulp. This will ensure its strength and reduce the risk of tears appearing as the patient changes position on the table.
Design
The design of the paper should be such as to increase its strength, absorbency, softness (for patient comfort) and quietness.
Absorbency
The design of the paper should be such as to resist water or fluids soaking through. This will ensure added protection for patients.
High absorbent crepe paper is a popular choice. It protects the patient from moisture or other foreign matter. In addition, it is a high comfort option that helps relax patients.
Fit
To be effective, exam table paper must provide the ideal fit for the tables and chairs in your clinic.This will help to minimize snags on patient clothing and the patient annoyance this usually causes.
Types Of Exam Table Paper
Crepe Paper
As mentioned above, crepe paper is a popular choice for examination table paper. It has a glue-like coat that increases its softness and absorbency. The texture is similar to that of a paper towel.
Crepe paper is also opaque and relative soft (compared to smooth paper described below). In general, it is less likely to slip when it is positioned on clinic furniture.
As a result of these properties, crepe is generally quieter and provides greater patient comfort.
Smooth Paper
Poly backed or "smooth"  paper is another popular choice. It is machine glazed and resists soak through for maximum protection. With smooth paper, there is virtually 100% resistance to moisture penetration. It is therefore useful for protecting treatment table and other surfaces when infection control is a priority.
Another notable aspect of smooth paper is its strong tear resistance.
Appearance wise, it provides a slick professional appearance that may go vell with the decor of your clinic.
Choosing A Table Paper
Both smooth and opaque paper types are excellent choices. You will not go wrong with either.
In the end, your choice is likely to come down to where you place your highest priority.
If resistance to moisture and dirt penetration is absolutely of the highest importance, as is tear resistance, you will probably go for smooth paper. It will not provide the same amount of patient comfort as crepe paper. However, you will probably consider its additional protection to be worth the small amount of patient comfort and convenience sacrificed.
On the other hand, if absorbency and/or patient comfort are just that more important to you, crepe paper will probably be comfortable. It will provide more resistance to slipping while in use and is also quieter and softer for the patient. Rest assured however that, with this choice, you will still enjoy a high level of moisture and tear resistance.
Suggested Examination Table Paper Products
---
Showing the single result