The Montane Tatras 2 Section treatment table from Chattanooga is available either with 2 wheels and 2 legs or with 4 wheels. The table is available with navy blue, black and graphite grey upholstery supplied by Vowalon, a leading German name in the industry.  It is fire resistant, bio-compatible,scratch resistant and water resistant
The Montane Tatras 2 Section table uses specially selected foam densities with different layers of padding. The bottom foam pad is semi hard and the top pad is soft foam. This provides the proper resistance for the therapist during treatment as well as maximized patient comfort.
Montane Tatras 2 Section Table – Key Features
The table comes with a nose slot and filler plug in the head section for optimum patient comfort during therapies requiring her to lie face down.
It also comes with Chattanooga's proprietary Hallotronic system. This comprises a magnetic switch that adjusts table height, a foot switch accessible from any position and a control lever that supports the smooth movement of the foot switch.
Extremely quiet with no noise during height adjustment.
Height range goes from 19″ to 40″ for easy patient transfer and the convenience of the therapist.
Minimal lateral movement when lifting the patient using the articulated boomerang HI/LO design.Table movement and/or height adjustment is simplified by the operation of high quality gas springs.
When equipped with 4 wheels, the tables have 4 multi directional castors with 1 central brake and lift system. This facilitates engagement/disengagement and moving the table from one place to another
There are adjustable foot plates on all four feet to ensure stability of the table even on non level surfaces,
The table features a unique integrated electronic height control switch with magnetic locking system. It also includes a special safety system in case of electrical short or actuator damage.
Montane Tatras 2 Section Table – Articulations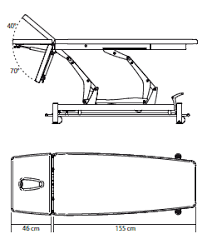 The Montane Tatras 2 Section Table comes with a head section that can decline 70º below the horizontal or incline 40º above it.
Montane Tatras 2 Section Table – Technical Specifications
Mains Power: 120 V/60 Hz
Standby consumption: 3.5 W
Input: 120 V/1.9 A/ 60 Hz
Weight: 242 lbs plus 66 lbs pallet when shipping
Dimensions: 79″ x 27″ x19″-40″ (LxWxH)
Shipping dimensions: 86″ x 35″ x 30″
Lifting capacity: 330 lbs
Electrical Safety Class: Class II, Type B
Safety Tests: Meets Directive 93 / 42 /EEC, Certified to CAN/CSA Standard C22.2 No. 601.1-M90x/A2