Visco Knee Skin with Conforma Hinge
Login For Dealer Pricing
Product Attributes
| | |
| --- | --- |
| Size | Large, Medium, Small, XL, XS, XXL |
Silicone ring helps keep swelling off the joint
The Bio Skin Visco Knee Skin with Conforma Hinge is an excellent all-purpose knee support. The Visco gel ring around the patella provides passive massage to remove swelling and decrease knee pain. The brace is comfortable enough to wear all the time and is very useful a few weeks after knee surgery to control swelling and speed recovery. Constructed fromBio Skin's patented, breathable materials, the Visco Knee Skin gives excellent compression. Finger loops make application easy.
The Bio Skin Visco Knee Skin with Conforma Hinge can be used for a broad range of knee injuries.It features a Visco gel ring that surrounds the patella to reduce swelling and knee pain. It also includes several features (explained below) to make it comfortable to wear all day long, thus enhancing patient compliance and accelerating the recovery process.
The patented Conforma hinge included with the brace provides additional stability while also being extremely light and comfortable to wear.
The brace is made of Bio Skin's patented Stratus material, which  is a patented tri-laminate composite with high powered Lycra on the outsides and an elastic porous membrane in the middle.The elasticity of this membrane provides additional dynamic compression and a more forgiving fit. Like all Bio Skin materials, Stratus is hypo allergenic and 100% neoprene and latex free.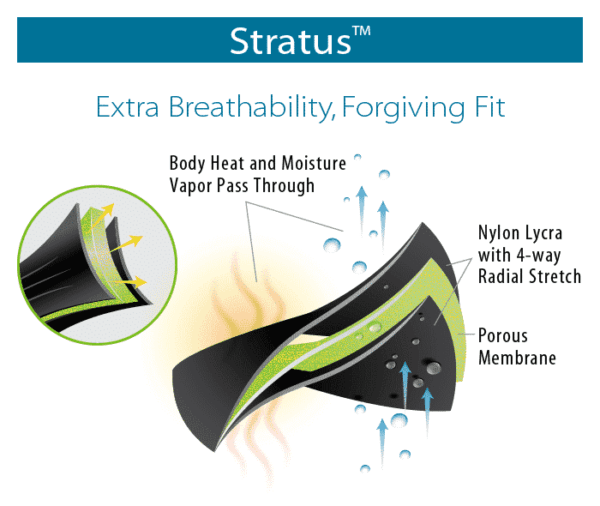 The Bio Skin Visco Knee Skin with Conforma Hinge also includes Bio Skin's patented SkinLok™ feature that increases the coefficient of friction against the skin in the presence of perspiration and reduces slippage. Keeping the brace in its intended position helps to improve its long term effectiveness in expediting the healing process.
The brace includes finger loops that facilitate its application. However, for a clear explanation of how to apply it properly, please consult the video under the Instructions tab on this page.
For more information on the Bio Skin Visco Knee Skin with Conforma Hinge, please watch this video:
Features and Benefits
Ideal after knee arthroscopy
Finger loops enable easy pull-on application
Closed patella
Stratus material – neoprene free and latex free
Conditions and Indications
Knee Sprains and Strains
Knee Joint Swelling
Meniscus Tear
Osteoarthritis
Patellar Tendonitis

Questions & Answers(1)
Q- I need a knee brace with not too much back of the knee pressure due to bursitis ( Baker's) with swelling around the knee due to knee replacement in October. The swelling is the impairment. The Mc David worked well aor e the last patient. Can you suggest something in Bioskin?
A- The Visco knee would work well for the knee replacement however, due to the compression in the Bio Skin products it could cause a problem with the back of the knee pressure
Q – front looks gopod . What is the back of the brace like?
A – the back of the brace is closed and seamless, however there is a lot of compression
---
Please
login
to post questions