Waterproof Cast Cover
Login For Dealer Pricing
Product Attributes
| | |
| --- | --- |
| Size | Large, Medium, Small, X-Small |
The quality of the Dry Pro™ cast and bandage protector is unmatched. With the vacuum seal, it can't even be pulled off.
The DryPro Waterproof Cast Cover allows you to swim, shower and bathe while keeping your casts, bandages and wounds completely dry.
The Cast Cover is also useful to those undergoing hydrotherapy right after surgery to help prevent swelling and stiffness and aid in a speedy recovery.
The DRYPro™ waterproof fabric is rugged and is made of durable high quality surgical latex. The special Non-Skid Grid™ protects the sole and helps prevent slipping during usage.
The pump has a dual function – it not only creates the vacuum seal but also works as a gauge showing that the vacuum is intact and cannot leak. So go ahead and ENJOY THE WATER!
If you need to make a slight adjustment in the fit of your Waterproof Cast Cover, please view the video posted in the product gallery above.
Please see also the PICC Line or Prosthetic Limb Protectors – also from DryPro.
DryPro Waterproof Cast Cover – Features and Benefits
Durable and reusable – made of durable high quality surgical latex
Non-skid Grid™ – designed to prevent slips
Completely waterproof – shower, swim and bathe
Slides on in seconds and the seal keeps water out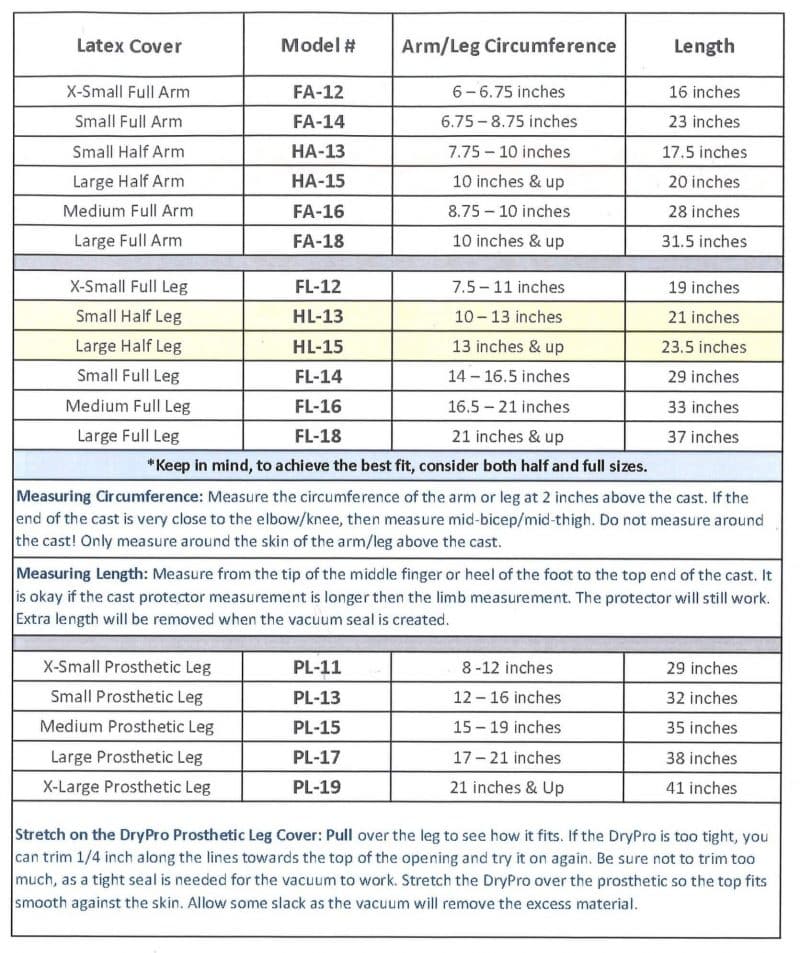 Easy to Use:
Slip On - slide over the cast or bandage
Pump Out - the air using removable hand pump
Remove - when you're done, simply let the air back in and slide off
Enjoy the water!
Please
login
to post questions