TUFF Compression Merino Wool Hike / Outdoor Socks
Login For Dealer Pricing
Product Attributes
| | |
| --- | --- |
| Size | Large, Medium, Small, X-Large |
| Colour | Charcoal Grey, Mossy Green |
LEGEND TUFF® Compression Merino Wool Hike/Outdoor Socks offer everything the avid hiking/outdoors person needs from their socks, from graduated compression to arch support.
LEGEND TUFF® Compression Merino Wool Hike / Outdoor Socks are designed for outstanding performance & durability.
Incorporating graduated compression, these merino wool hiking compression socks have everything the keen hiker/outdoors enthusiast needs in their socks.Their mild albeit effective compression increases blood circulation. As a result, your feet and legs will maintain their fresh feeling while you enjoy your outdoor adventures.
Merino wool naturally wicks moisture away. It is also naturally breathable and odor resistant, qualities that combine to form the ultimate hiking sock.
Further, merino wool is naturally temperature regulating – warming your feet when it is cold and cooling  them when in hot conditions.
In addition to the above natural qualities, these merino wool socks come covered with a nylon wrapping for extra durability.
Benefits Of  LEGEND TUFF® Compression Merino Wool Hike / Outdoor Socks
These socks will improve hikers' endurance as they navigate rough terrain. They do this by promoting improved blood circulation.
The socks inorporate UV protection as well as support for your foot arches for added comfort and minimal sock movement to prevent blisters.
Using the TUFF® Compression Merino Wool Hike / Outdoor Socks will also shorten your recovery time between adventures.
In addition, the improved blood circulation will help to reduce the tired and achy feeling you may normally experience in your feet .
LEGEND TUFF® Compression Merino Wool Hike / Outdoor Socks: Additional Benefits
Over 50% merino wool content for maximum performance.
The socks also have cushioned soles for extra comfort.
Machine washable
Natural barrier to UV
LEGEND TUFF® Compression Merino Wool Hike / Outdoor Socks: Key Construction Attributes
Seamless toe construction eliminates shoe irritation
Terry cushion on sole and shin
Nylon wrapped merino wool for softness and durability
Spandex keeps socks up and in place
Clencher over arch of foot
These unisex socks come in sizes small, medium, large and extra large and are available in mossy green and charcoal grey.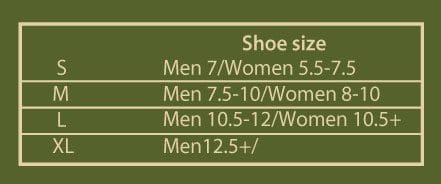 Graduated Medical Compression Hosiery should not be worn and is contraindicated for the following medical conditions:
• Advanced arterial disease of the legs , i.e. ischemia
• Congestive heart failure that is not controlled
• Septic phlebitis of the leg that is not being treated
Please exercise caution in wearing compression socks if you have:
• Infections of the skin
• Immobility
• Allergy to garment fabrics
• Weeping dermatosis
• Limb Insensitivity
• Peripheral Artery Disease
Putting on your medically correct stockings/socks:
• The best time to put on your compression socks is as soon as you get out of bed. Your legs are least swollen when you wake up.
• Be careful – fingernails and jewelry can damage your hosiery. Use the pads of your fingers and the palms of your hand to put on the garment. Consider wearing rubber gloves to assist in putting on and protecting your garment.
• Cover open wounds with a sterile dressing prior to putting on the compression garment.
INSTRUCTIONS FOR USE
1. Push your hand inside the sock. Pinch the heel and pull the sock partially inside out, so that the foot part remains turned in.
2. Firmly grasping each side of the sock, stretch it over your toes, pull it up to your heel, and adjust it to fit your foot comfortably. At this point, the sock will be on your foot with the leg portion inside out.
3. You can then reach down and pull the leg portion up. Turn the sock right side out one section at a time. You should also stretch the sock and adjust it up your calf as you go.
4. Smooth the hosiery on your leg using both hands in a massaging movement. Ensure that there are no wrinkles.
6. Remove the socks before going to bed, unless your doctor advises otherwise.
Silicone Top Band Care:
Use an alcohol wipe or mild soap to remove excess lotions, hair, oils and other material for maximum grip.
Washing Instructions:
• Hand or Machine wash in warm water. A mild non-bleaching detergent may also be used.
• Machine Dry – low heat or hang dry
• Do not dry clean or iron
• Do not wring
• Do not use fabric softener
Please
login
to post questions