Hip Brace/V2 Supporter Combo
Login For Dealer Pricing
Product Attributes
| | |
| --- | --- |
| Size | Large, Medium, Small, X-Small |
The It's You Babe Hip Brace/V2 Supporter Combo helps to relax hip joints and reduce pelvic girdle pain, courtesy of its adjustable compression of problem areas. Treats a variety of problems including varicose veins, Pelvic Girdle Pain and more. Made in the USA.
The It's You Babe Hip Brace/V2 Supporter Combo promotes relaxed hip joints, reduces pelvic girdle pain by gently compressing the problem area and also providing adjustable compression to the vaginal area. Variable pressure to the varicose veins and the Symphis Pubis helps to relieve the aching and throbbing of the vagina. This supporter can also help provide relief to from  painful Symphysis Pubis Dysfunction, aka SPD or Pelvic Girdle Pain.
Sizes available are Extra Small (Petit), Small, Medium and Large.  Please refer to the sizing chart on this page for correct sizing.
It's You Babe Hip Brace/V2 Supporter Combo – Key Features
·        The supporter provides adjustable compression support for the greater trochanter (upper femur);
·        In addition, it holds relaxed hip joints in sockets;
·        The brace gently supports back, abdomen and pubic pain also known as pelvic girdle pain;
·       You can also used the supporter to provide post-surgical incision compression;
·        You can use it to compress vaginal varicose veins and support an external prolapsed bladder or uterus and vaginal edema.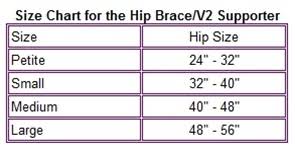 Secure all velcro tabs of the Hip/V2 Supporter. Machine wash on gentle cycle using a garment bag and hang to air dry.
Please
login
to post questions