Q Lok Front Closure
Login For Dealer Pricing
Product Attributes
| | |
| --- | --- |
| Size | Large, Medium, Small, XL, XXL |
Q Lok – Dynamic Patella Traction System
The Bio Skin Q Lok Front Closure is designed to diminish the effects and aid in the rehabilitation of patellofemoral pain. Patellofemoral pain is caused by improper tracking between the patella (knee-cap) and the femur. The superior compression and unique strapping system of the Q Lok push the patella back into the correct position in the trochlear notch at the end of the femur. A properly positioned patella spreads the force in the joint over a large surface and decreases pain and wear on the joint. Constructed from Bio Skin`s breathable materials, the Q Lok gives excellent compression without causing discomfort.
The Bio Skin Q Lok Front Closure knee brace is designed primarily to reduce patellofemoral pain and to expedite recovery from it. The brace features a unique strapping system that pushes the patella back into its correct position in the trochlear notch. With the patella properly positioned in this way, the force on the knee joint is distributed over a larger area. The key benefit of this is decreased pain and general wear and tear on the knee joint.
The Q Lok Front Closure's micro fleece lined Ultima 2SL™ material features a Velcro-compatible surface to enhance compression and flexibility in anchoring and closures. Like all Bio Skin materials, Ultima 2SL™ is hypo allergenic and is also 100% neoprene and latex free, thus eliminating any risk of allergic or other adverse reactions. This increases patient compliance by making the brace more comfortable to wear over prolonged periods.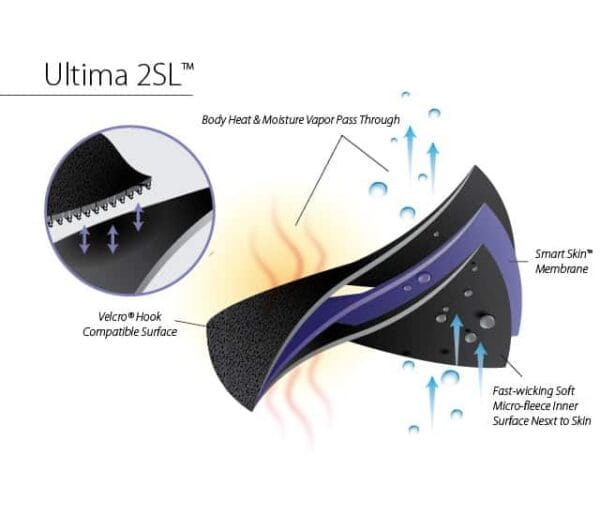 Like all Bio Skin braces, the Q Brace Front Closure features the patented SkinLok™ feature. This increases adherence to the skin in the presence of perspiration, thus reducing slippage during periods of intense physical activity. As a result, the brace will remain firmly in its intended position and continue to apply compression to the appropriate area. It  continues to effectively reduce pain and promote healing while your patients pursue their normal activities.
Bio Skin Q Lok Front Closure – Features and Benefits
Seats patella in trochlear notch
Reduces patella tilt
Provides a traction force on the lateral retinaculum
Lightweight hinges anchor the Dynamic Patella Traction Strap
Contoured cut designed to fit a wider variety of thigh shapes
Hinges naturally contour to leg
Universal left and right
2SL material – latex and neoprene free
Bio Skin Q Lok Front Closure – Conditions and Indications
Anterior knee pain
Maltracking patella
Patellar tilt, glide and subluxation
Patellofemoral knee pain
Post surgical lateral release
Tight lateral retinaculum
Patellofemoral osteoarthritis

Please
login
to post questions