The Bio Skin Hinged Knee Skin – Front Closure is designed to be one of the lightest hinged knee braces available. The new version of the brace is 25% lighter than its predecessor and twice as strong. It's also a much thinner brace with 1.5mm uprights and smooth motion hinge gears.
Like the other Bio Skin front closure knee braces, the Bio Skin Hinged Knee Skin -Front Closure uses the patented Ultima 2SL material to create a truly customizable wrap around design.The material itself is Velcro compatible so the Velcro closures can adhere anywhere on the front of the brace to fit virtually any shape of the leg. As with the entire Bio Skin family of materials, Ultima 2SL is hypo allergenic and 100% neoprene and latex free. This reduces the risk of an adverse medical reaction, thus enhancing patient compliance, which is a critical factor influencing the chances of full recovery.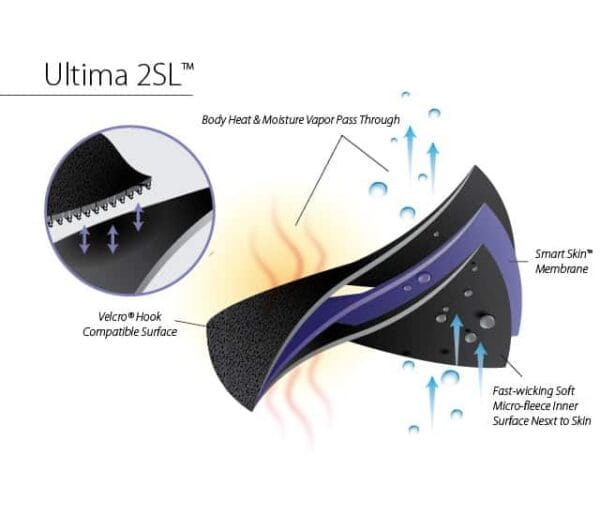 The brace's patented SkinLok™ feature increases adhesion to the skin in the presence of perspiration, water or lotion, thus reducing slippage during periods of intense activity. Keeping the brace consistently in its correct position will promote a more rapid healing process and improve the chances of a full recovery.
Features and Benefits
Offset hinge reduces pressure at the knee joint
Strapping system minimizes migration
Ultima 2SL material – latex and neoprene free
Conditions and Indications
Lateral Collateral Ligament (LCL) Tear or Sprain
Medial Collateral Ligament (MCL) Tear or Sprain
Meniscus Tear
Posterior Cruciate Ligament (PCL) Sprain
Anterior Cruciate Ligament (ACL) Sprain