The Bio Skin Gladiator knee brace uses a rigid hinge to protect knee ligaments, including after reconstruction. Its rigid strapping system firmly anchors it to the leg, avoiding the need for larger, more expensive braces. As shown in the image below, the hinges are adjustable, with pins that may be easily set to limit flexion and/or extension.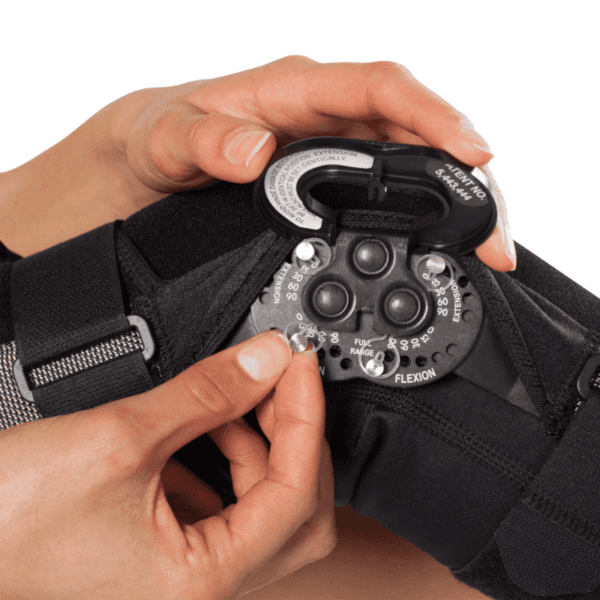 The Gladiator knee brace uses Bio Skin's proprietary tri-laminate Ultima material (see image below) with Lycra on the outside and a polyurethane film in the middle. The polyurethane film permits moisture vapor transfer and thus perspiration evaporation. This facilitates the body's natural temperature regulation system. Ultima is hypo allergenic and is also 100% neoprene and latex free.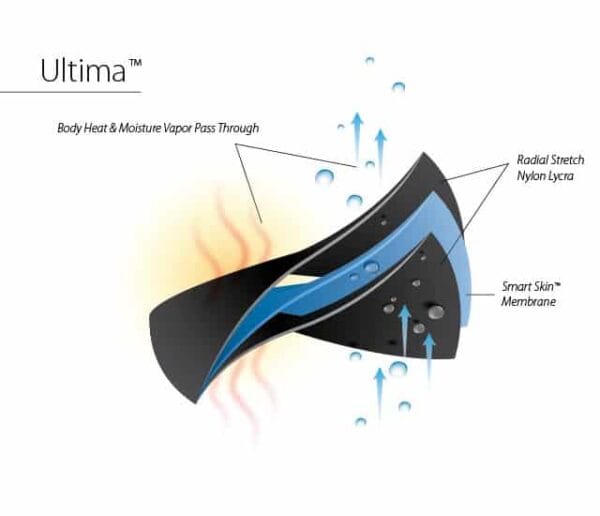 Along with most of the Bio Skin product line, the Gladiator knee brace features SkinLok™ , which promotes adherence to the skin in the presence of perspiration, thus reducing slippage. The ability of the brace to remain firmly in place during periods of intense activity increases its effectiveness in reducing pain and promoting rapid healing.
The Gladiator also has a gel ring around the patella. This serves to control swelling and pain and further enhances the overall effectiveness of this knee brace.
Bio Skin Gladiator -Features and Benefits
Length: 15″
Silicone gel patella ring for compression
Pull-on design
Easily adjustable ROM settings
Open patella
100% neoprene free and latex free
Bio Skin Gladiator – Conditions and Indications
Anterior Cruciate Ligament (ACL) Sprain
Posterior Cruciate Ligament (PCL) Sprain
Lateral Collateral Ligament (LCL) Tear or Sprain
Medial Collateral Ligament (MCL) Tear or Sprain
Knee Instability