The Bio Skin Tennis Elbow Band fits below the crease of the elbow. Like the Tennis Elbow Skin, it includes a silicone pad and elastic strap to provide additional compression and pain relief from elbow injuries such as tennis and golfer's elbow.
The Band's proprietary tri-laminate Ultima material has Lycra on the outside and a polyurethane film in the middle. The film permits moisture vapor transfer and thus perspiration evaporation. This facilitates the body's natural temperature regulation system. Like all Bio Skin materials, it is hypo allergenic and 100% neoprene and latex free. These properties will eliminate the discomfort from wearing the Band over a prolonged period. The improved patient compliance increases the likelihood of a favorable treatment outcome.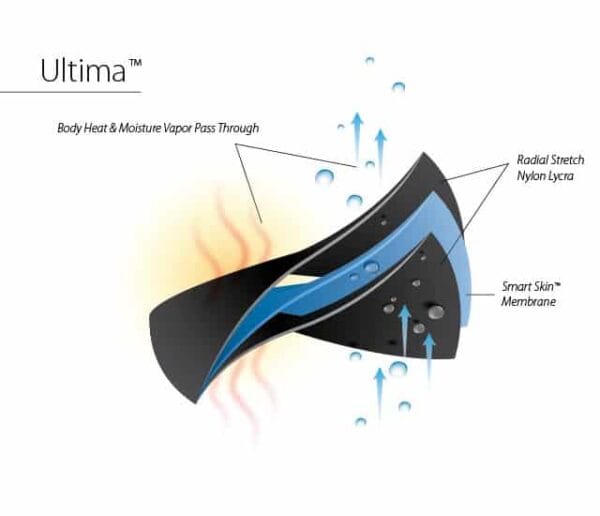 The Bio Skin Tennis Elbow Band incorporates the patented  SkinLok™ feature, which causes it to adhere more firmly to the skin in the presence of perspiration, water or lotion.  As a result of this, the Band will remain in its intended area even through periods of intense activity. The patient will therefore have a greater likelihood of rapid pain relief and healing.
The Bio Skin Tennis Elbow Band is suited to individuals who need it to mitigate mild to moderate tennis or golf elbow pain resulting from recreational sporting or other activity. You cannot use it to apply compression with the degree of precision of an epicondylitis clasp. Consequently it is not a good choice to treat severe cases that require the high degree of compression that you can get from a clasp.
It is not a good choice if you are experiencing tennis elbow pain together with more general pain in the region of your elbow. In those cases, your better choice would be the more general compression offered by a tennis elbow sleeve.
Bio Skin Tennis Elbow Band – Features And Benefits
Contours to forearm shape
Comfortably fits below crease
Easily positioned
Silicone pad fits over painful area
100% neoprene free and latex free
Bio Skin Tennis Elbow Band – Indications
Medial epicondylitis (Golfer's Elbow)
Lateral epicondylitis (Tennis Elbow)
Please contact us to discuss the benefits of choosing this brace for your patient. We look forward to hearing from you.