Back Skin with Lumbar Pad
Login For Dealer Pricing
Product Attributes
| | |
| --- | --- |
| Size | 3XL, 4XL, 5XL, Large, Medium, Small, XL, XS, XXL |
Low-profile support for muscle strains and posture
Treat lumbar sprains, pain from overuse, muscle strains, and develop better back posture with the Bio Skin Back Skin with Lumbar Pad. It's designed with a narrow cut in the front and flexible stays on the sides so when sitting or bending the brace remains pliable and doesn't impinge on the groin area or into the rib cage. Customize your back pain treatment by choosing from our lumbar support accessories.
The Bio Skin Back Skin with Lumbar Pad back brace treats lumbar sprains, pain from overuse and muscle strains. It will also help improve back posture. A lumbar pad is included with the brace
The Bio Skin Back Skin with Lumbar Pad has a narrow cut in the front and flexible stays on the sides. As a result, the brace remains pliable when sitting or bending and will not impinge on the groin or rib cage area.
There are vented side panels to release heat and make the brace more comfortable to wear over prolonged periods. Several lumbar support accessories are available for use with the brace.
The brace's tri-laminate Ultima material is amazingly thin and provides high level compression with powerful Lycra and a polyurethane film. The film allows moisture vapor transfer so that perspiration evaporates, thus facilitating the body's natural temperature regulation system. Like all Bio Skin materials, Ultima is hypo-allergenic and 100% neoprene and latex free so there is no risk of allergic or other adverse medical reactions.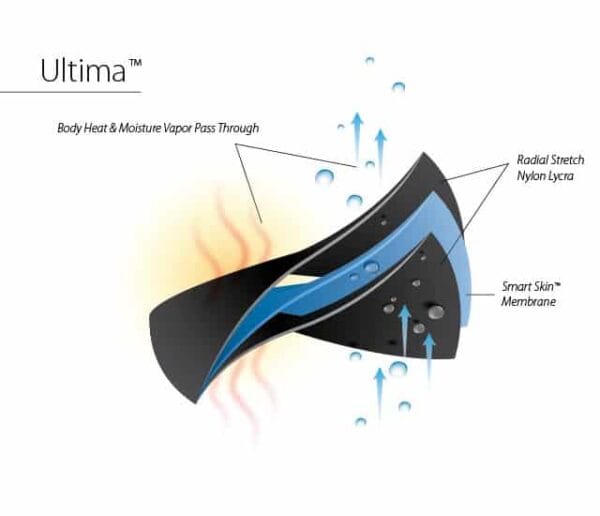 The Bio Skin Back Skin with Lumbar Pad includes the SkinLok™ feature. This increases adherence to the skin in the presence of perspiration, water or lotion, thus reducing slippage, even during periods of intense physical activity. The brace remains in its intended position and will continue to apply pressure to the required area. As a result, the Bio Skin Back Skin with Lumbar Pad will continue to be effective in reducing pain and promoting healing while your patients pursue their normal activities.
Features and Benefits
Low profile, cool, and comfortable fit
Vented elastic side panels for heat release
Removable Double Cinch Belt gives flexibility and support
Customize with lumbar support options
Constructed of Bio Skin Ultima™ material
100% neoprene and latex free
Lumbar Pad – fits into serpentine area of lower spine between L2 and L5, offering direct compression and relief
Conditions and Indications
Lumbar Strains
Lumbosacral Strains
Lumbago
Lower Back Pain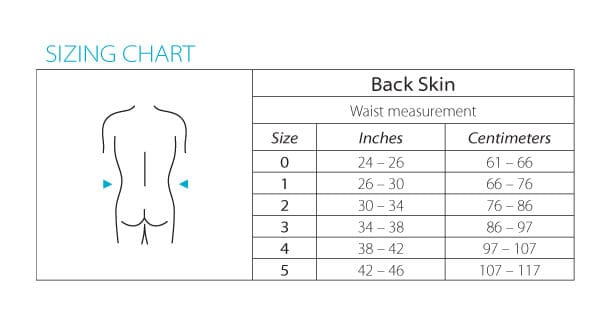 Application Instructions
Bio Skin® supports should be applied to dry skin only. Oils, lotions and/or perspiration activate "SkinLokTM" making correctly sized supports seem small and difficult to apply. This response to moisture should not cause confusion with respect to proper sizing. Always dry the body segment thoroughly prior to application.
Take the support with both hands and stretch the top and bottom of the brace two to three times. This helps break-in the material.
1. Detach the large "hook" and "loop" closure. With the "loop" in the left hand, wrap support around the middle of the low back.
2. Lay left panel down first.
3. Attach right panel to left panel.
4. Lay the left Double Pull on right panel.
5. Lay the right Double Pull on left double pull.
6. To ensure proper placement, the bottom of the support should be placed at the base of the tailbone.
Lumbar Pad
Offers a broad variety of pad positions to fit directly over the pain
Specifically targets the lumbar area between L2 and L5
Easy Care Instructions
Wash Bio Skin® regularly to prevent body salt and oil build-up that naturally occurs after the product has been worn a few times. Attach the hook to the loop to prevent lint build-up. This will give your Bio Skin® a longer life span.
30 C 86 F
Hand Wash
Hang Dry
Do Not Bleach
Do Not Dry Clean
Please
login
to post questions