The Bio Skin TriLok ankle brace offers a simple and effective solution for pain from plantar fasciitis and posterior tibial tendon dysfunction. It can also be used for proactive protection from ankle sprains.
The TriLok features a patented FootLok strap that supports weak tendons and soft tissues in the foot. The FootLok has a dual function. Positioned laterally across the foot, it  supports and protects the lateral ligaments and peroneal tendons. When positioned medially, it supports the plantar fascia or the posterior tibial tendon.
The brace also features two independent straps to stabilize the midfoot and hindfoot.
Another unique feature of the Bio Skin TriLok is its low profile, which gives it the ability to be worn with any type of footwear or when barefoot. This also permits normal ankle flexion and extension while wearing the brace.
The TriLok's micro fleece lined Ultima 2SL™ material features a Velcro-compatible surface to enhance compression and flexibility in anchoring and closures. Like all Bio Skin materials, Ultima 2SL™ is hypo allergenic and is also 100% neoprene and latex free, thus eliminating any risk of allergic or other adverse reactions.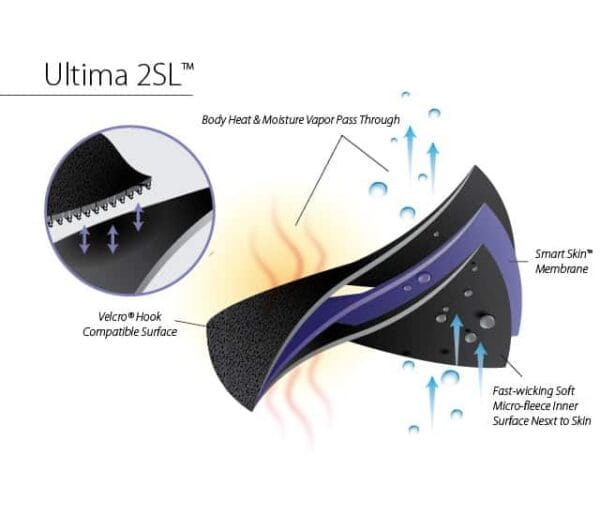 The Bio Skin TriLok ankle brace incorporates the SkinLok™ feature. This increases adherence to the skin in the presence of perspiration, thus reducing slippage during periods of intense physical activity. As a result, the brace will remain firmly in its intended position and will continue to apply compression to the appropriate area. The brace will therefore continue to be effective in reducing pain and promoting healing while your patients pursue their normal activities.
Bio Skin TriLok – Features and Benefits
Easily Fits into Most Shoes
Made with Breathable Bio Skin Materials
Compressive Material Speeds Healing and Proprioception Return Following Tissue Trauma
Universal Left or Right
Latex Free and Neoprene Free
Bio Skin TriLok – Conditions and Indications
Ankle Sprains
Posterior Tibial Tendon Dysfunction (PTTD)
Plantar Fasciitis
Peroneal Tendon Injuries
Subtalar and Ankle Arthritis
Bio Skin TriLok – Application
Left Foot – Lateral Application
Left Foot – Medial Application
Right Foot – Lateral Application
Right Foot – Medial Application