Orthowedge
Login For Dealer Pricing
Product Attributes
| | |
| --- | --- |
| Size | Large, Medium, Small, X-Large, X-Small |
The Darco OrthoWedge™ is clinically proven to reduce weight bearing pressure on the forefoot which promotes faster healing from forefoot wounds or diabetic ulcerations. The removable EVA insole features twice the padding of standard insoles and can be modified as needed. For customizable off-loading, insole can be totally removed to accommodate DARCO's innovative PQ PegAssist™ in-sole.
The Darco Orthowedge™ is clinically proven to reduce the pressure on your forefoot while standing or walking. This accelerates healing of the metatarsal area healing after undergoing surgery, experiencing trauma or when treating forefoot wounds or diabetic ulcerations.
There are many situations in which a shoe like the Orthowedge, with its capability to reduce forefoot pressure, will be an invaluable help in promoting faster healing. These include:
Individuals suffering from diabetes, for whom wounds and ulcerations under the toes and the metatarsal heads are a constant threat. The offloading of forefoot pressure by the Darco Orthowedge™ will give any wounds and ulcerations an opportunity to heal while you continue to have ambulatory freedom.
Patients who have undergone surgery in the forefoot region and who need to reduce pressure and friction on that area in order to allow their wounds to heal.
Persons who have experienced trauma in the metatarsal region and need to give that area a rest from the pressure and friction experienced during everyday activities.
The Orthowedge has a 15º wedge sole that serves to shift as much as 57% of your body weight from the forefoot to the sole.
When it comes to the need for a wound care product specifically designed for the forefoot area, the Orthowedge has proven itself capable of outstanding performance in both clinical and real world situations.
Darco Orthowedge™ – Features and Benefits
Reduces pressure on your forefoot by as much as 57%
Square-toe design protects the toes and improves the ability to wear the shoe on either the left or right foot.
Ankle strap seats your foot firmly in the shoe, reducing heel slippage and eliminating friction  between the bottom of your foot and the shoe.
Removable forefoot closure provides security while eliminating buckle pressure
The zoned outsole features an aggressive tread pattern under the midfoot where traction is most needed.
EVA insole has twice as much padding as standard insoles. You can also modify it as needed or remove it entirely to accommodate the PQ PegAssist™ off-loading insole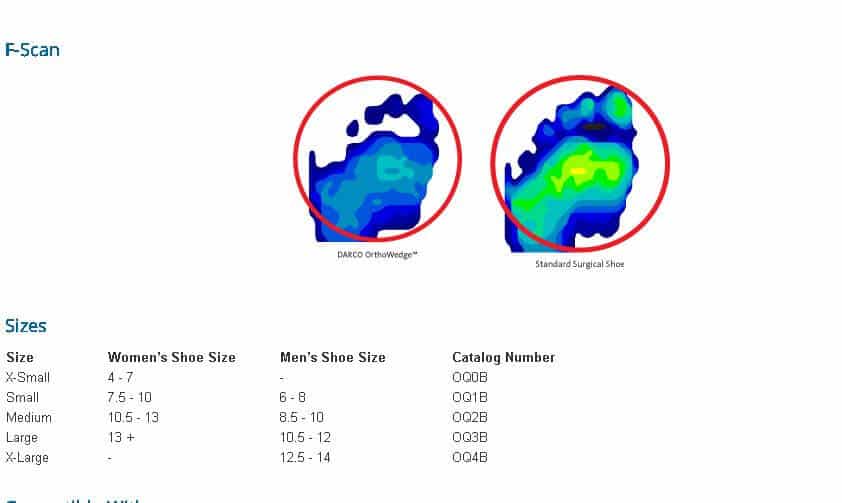 Please
login
to post questions