Our IRT1603 Digital InfraRed Thermometer is packed with attractive features that will help you keep your clinic or work setting safe for customers and employees.It is useful for  contactless temperature measurement of visitors to confirm whether they may be carrying an infection that could be harmful to others. The measuring range of the thermometer is 34.0ºC to 42.2°C and you can use it to measure the temperatures of both adults and children. This Digital InfraRed Thermometer takes its place alongside other PPE products such as Cleaners and Disinfectants as vital components of the arsenal of tools needed to combat COVID-19.
Other useful features of the IRT1603 include::
Fever alarm with three back light colors (green, orange and red) and sounds;
Voice indication after temperature measurement;
Memory storage of the last 9 temperature measurements;
Automatic turn off to conserve battery life after 30 seconds of non use.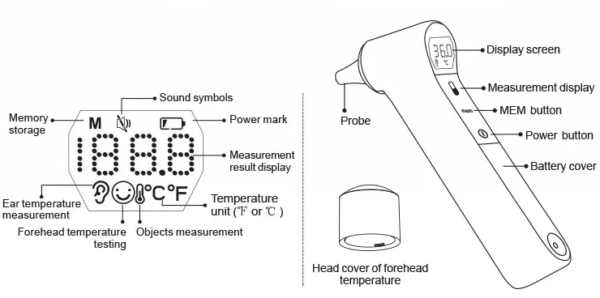 The IRT1603 Digital InfraRed Thermometer can take readings in 1 second and is accurate to within 0.1°C of the true temperature. It is also switchable between Celsius and Fahrenheit readings. A unique battery cover design allows you to change batteries quickly and easily.
For power, the IRT1603 uses dual 1.5V AAA batteries.
With the Digital InfraRed Thermometer IRT1603 you can take temperature measurements of either the forehead or ear. In addition, this versatile thermometer allows you to measure the temperatures of other objects. The IRT1603 carries a Health Canada Class 2 MDALL license.