Boomerang
Login For Dealer Pricing
Product Attributes
| | |
| --- | --- |
| Size | Large, Medium, Small, XL, XS, XXL |
Treatment for wrist pain, general wrist support
The Bio Skin Boomerang comfortably provides compression and support to treat wrist pain for minor wrist problems. The wrap is easy to apply and is universal left or right. Constructed of Bio Skin's patented, Ultima 2SL™ material, the Boomerang is comforatble to wear, while providing optimal wrist support. Bio Skin is hypo-allergenic and 100% neoprene free and latex free, so you don't have to worry about skin irritations.
SKU: 54200
The Bio Skin Boomerang wrist brace provides comfortable compression and wrist support for the treatment of pain caused by minor wrist injuries. The indicated conditions include carpal tunnel syndrome, wrist sprains and other minor overuse injuries.
Bio Skin wrist braces are lightweight, thin and low profile for optimal comfort and the Boomerang is no exception to this rule.
The Boomerang's Ultima 2SL™ material features an Velcro-compatible surface to enhance compression and flexibility in anchoring and closures. Like all Bio Skin materials, Ultima 2SL™ is hypo allergenic and is also 100% neoprene and latex free which reduces the risk of adverse medical reactions.
In addition to the features mentioned above, Ultima 2SL is anti microbial, which also contributes to comfort during wear and improves patient compliance. This is a critical factor in increasing the likelihood of a successful treatment outcome as the wearer will find it easier to continue wearing the brace for the recommended time period.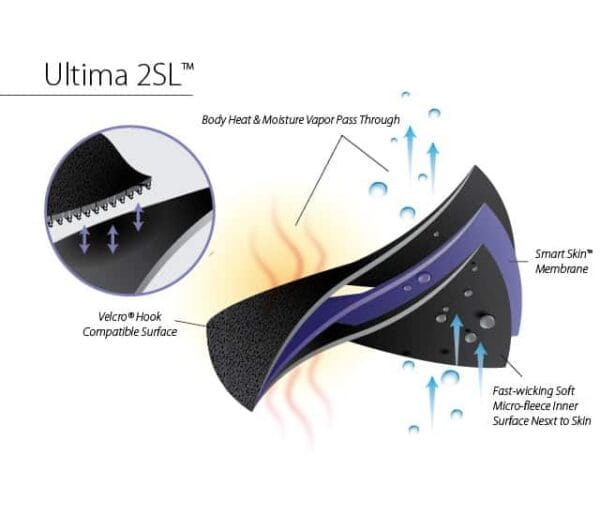 As with all Bio Skin braces, the Bio Skin Boomerang wrist brace incorporates the patented SkinLok™ feature. SkinLok™ increases adherence to the skin in the presence of perspiration. This reduces slippage during periods of intense physical activity. As a consequence, the brace will remain firmly in its intended position while being worn. The Boomerang will therefore continue to be effective in reducing pain and promoting healing while your patients pursue their normal activities.
Features and Benefits
Universal size
Easy attachment
Universal left or right
Conditions and Indications
General Wrist Support
Carpal Tunnel Syndrome
Arthritis
Wrist Sprain
Wrist Pain
Bursitis
You may obtain advice on the care and maintenance of the Boomerang in the Bio Skin section of the FAQ page.
Please
login
to post questions