OA Spiral Dynamic Unloading Knee Brace
Login For Dealer Pricing
Product Attributes
| | |
| --- | --- |
| Size | Large, Medium, Small, X-Large, XX-Large |
Relieve your patients' tibiofemoral and patellofemoral OA pain with the BioSkin OA Spiral Knee Brace. It provides clinically validated pain relief and is easy to fit, apply and use. Made in the USA.
The BioSkin OA Spiral Knee Brace will relieve both tibiofemoral (TF) and patellofemoral (PF) OsteoArthritis (OA) pain. It provides tibiofemoral pain relief through a unloading mechanism in the tibiofemoral joint. The brace uses a 3 point leverage system and an inelastic strap to correct the angle of the distal segment of the leg (the segment below the knee) in relation to the portion above the knee. It pulls the knee out of varus (excesive inward angulation of the distal segment) or valgus ( inadequate inward angulation) and decreases tibiofemoral OA pain. For answers to some commonly asked questions about unloading knee braces, read this post.
For the overwhelming majority (91%) of patients with tibiofemoral OA, X-Rays may also reveal the presence of radiographic patellofemoral OA. The OA Spiral addresses PF Osteoarthitis by using a Q Strap to decrease pain in the PF joint. The Q Strap supports proper patellar alignment and increases joint surface contact.
The BioSkin OA Spiral has a lightweight and low profile design. This allows your patients to easily wear it under regular clothing. It will not interfere with their performance of their day to day activities.
BioSkin OA Spiral – Other Key Features
The brace has a wrap around design, making it easy to apply and remove for patients with limited manual dexterity. This also provides an adjustable fit by allowing patients with larger than normal  thighs  or calves to wear the brace with comfort;
Its contoured cut facilitates fitting the individual contours and almost any leg with no bunching behind the knee. This further enhances patient comfort and likely compliance;
The BioSkin OA Spiral comes with a donning sleeve that holds it in place during donning. As a result, the patient's hands are free to apply the rest of the brace;
Magnetic buckles further facilitate application and removal after the initial fitting.
As with all BioSkin products, this brace is made from BioSkin's breathable, light, hypoallergenic materials that keep the patient's skin dry and comfortable;
Also as with all BioSkin products, the brace provides medical grade compression. Studies have shown that compression improves frontal pane biomechanics in the knee, improves proprioception and reduces pain in osteoarthritic knees.
The BioSkin SkinLoc™ feature (which increases adherence to the skin in the presence of moisture from water or perspiration) will assist the brace to remain in the correct position for optimal pain reduction.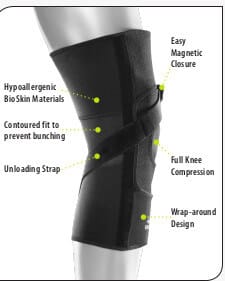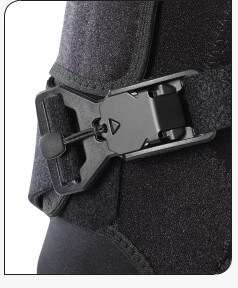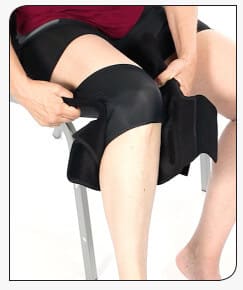 The BioSkin OA Spiral knee brace offers tibiofemoral and patellofemoral pain relief, medical grade compression, wearing comfort, ease of application and removal and a contoured fit in a single innovative package.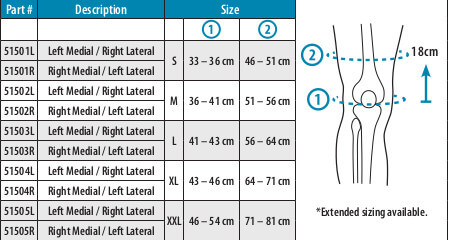 Please
login
to post questions