Q Brace Front Closure
Login For Dealer Pricing
Product Attributes
| | |
| --- | --- |
| Size | 3XL, Large, Medium, Small, XL, XS, XXL |
Multi-directional patella tracking knee brace
The Bio Skin Q Brace Front Closure is designed to reduce the pain of mild to moderate patellofemoral problems. The Q Brace's t-strap places gentle, lateral pressure on the patella to prevent subluxation (dislocation) and to help maintain the patella in its proper position. Constructed from Bio Skin's breathable materials, the Q Brace gives excellent compression without causing discomfort.
The Bio Skin Q Brace Front Closure is designed with the primary objectives of easy application as well as enhanced patella tracking capability. The brace features a "T" strap that inhibits dislocation and may be positioned in various ways to control the direction of traction on the patella. In addition, the design increases traction on the patella as the knee moves through its range of motion.
The Q Brace Front Closure's micro fleece lined Ultima 2SL™ material features a Velcro-compatible surface to enhance compression and flexibility in anchoring and closures. Like all Bio Skin materials, Ultima 2SL™ is hypo allergenic and is also 100% neoprene and latex free, thus eliminating any risk of allergic or other adverse reactions. This increases patient compliance by making the brace more comfortable to wear over prolonged periods.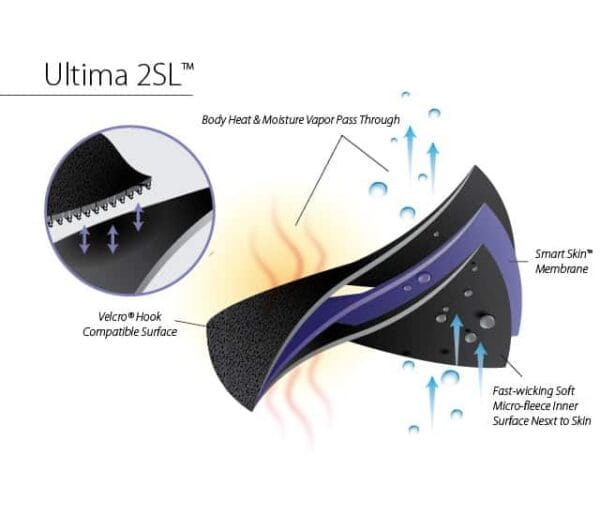 As with all Bio Skin braces, the Q Brace Front Closure features the patented SkinLok™ feature. This increases adherence to the skin in the presence of perspiration, thus reducing slippage during periods of intense physical activity. As a result, the brace will remain firmly in its intended position and continue to apply compression to the appropriate area. It  continues to effectively reduce pain and promote healing while your patients pursue their normal activities.
Features and Benefits
Achieves greater dynamic force as the knee is flexed
Universal left and right
Open patella
Hinge for increased stability
2SL material – latex and neoprene free
Conditions and Indications
Anterior Knee Pain
Patellar Subluxation
Lateral Tracking Patella
Medial/Superior Patella Tracking
Medial Patella Tracking
Medial/Inferior Patella Tracking
Patella Tracking Disorders

Product Questions & Answers (1)
Q: I have a patient with sensitivities to neoprene and latex and this is the only brace that I seem to be able to find that might address her OA of the knee.
A: Yes, it is a very good product, especially because of the no..latex, neoprene, or rubber in their products. 
---
Please
login
to post questions