Standard Knee Skin
Login For Dealer Pricing
Product Attributes
| | |
| --- | --- |
| Size | Large, Medium, Small, XL, XS, XXL |
Medium-level compression for minor pain and instability
The Bio Skin Standard Knee Skin provides optimal compression to decrease knee pain, control swelling, and increase proprioception. The design features a two-panel construction so there is no seam in the sensitive area behind the knee. Bio Skin's unique, patented materials make the brace breathable and comfortable, and wicks moisture away from the skin. All Bio Skin materials are 100% neoprene free and latex free!
The Bio Skin Standard Knee Skin provides compression for minor knee pain and instability. The compression provides pain reduction and swelling control.
The brace's tri-laminate Ultima material is amazingly thin and provides high level compression with powerful Lycra and a polyurethane film. The film allows moisture vapor transfer so that perspiration evaporates, thus facilitating the body's natural temperature regulation system. Like all Bio Skin materials, Ultima is hypo-allergenic and 100% neoprene and latex free so there is no risk of allergic or other adverse medical reactions.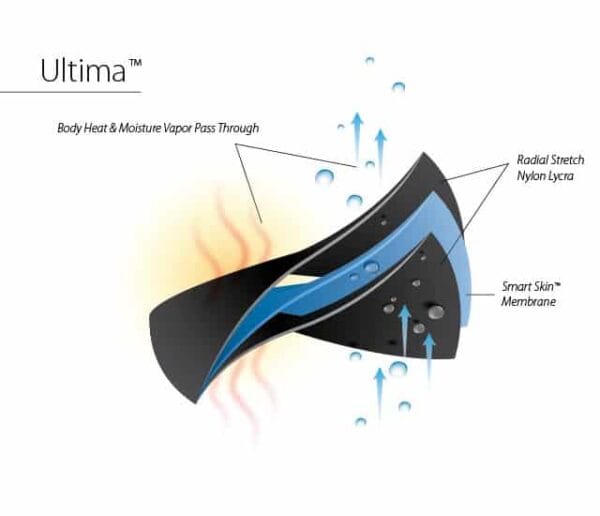 As with all Bio Skin braces, the effectiveness of the Bio Skin Standard Knee Skin is enhanced by the SkinLok™ feature. This increases adherence to the skin in the presence of perspiration, water or lotion, thus reducing slippage, even during periods of intense physical activity. The brace remains in its intended position and will continue to apply pressure to the required area. As a result, the Bio Skin Standard Knee Skin knee brace will continue to be effective in reducing pain and promoting healing while your patients pursue their normal activities.
Features and Benefits
Increase proprioception
Superior compression
Available in open or closed patella
Available with straps
Ultima material – latex and neoprene free
Conditions and Indications
Mid knee sprains
Knee joint swelling
Meniscus tear
Osteoarthritis
Knee pain
The Bio Skin Standard Knee Skin is designed to offer compression for pain reduction, swelling control and improved propioception. The Ultima material gives the brace breathability and comfort, thus improving patient compliance and leading to better treatment outcomes.

Product Questions & Answers (2)
Debbie on July 27, 2017
Q:  I have a fellow with a huge leg 20.5 inches at the bend of the knee, he is looking for a pull-on knee brace without any straps and with the spiral stays and open patella. Do you have anything that would a be suitable
A: You can check out the Bioskin knee sleeve. Do you know what size his thigh would be? 7" above the patella. Just with the knee measurement he would be a 2xl, although he may have to go up a size, which is a different ball game!
There is also the Mueller Knee stabilizer #4539. It is a wraparound one size say fits 12" to 25"
---
Q:He is adamant that he wants a pull-on I will have to get the thigh measure but I know that that is huge as well apparently he boxes or something similar and his whole leg is huge.
A:There is a Mueller HG80 knee stabilizer, the largest size is 2xl fits 20" – 22" around the knee, not sure if it will accommodate his thigh?
Please
login
to post questions