Premium J with Conforma Hinge
Login For Dealer Pricing
Product Attributes
| | |
| --- | --- |
| Size | Large, Medium, Small, XL, XS, XXL |
| Left or Right? | Left, Right |
Patella subluxation and patellofemoral pain treatment
The Bio Skin Premium J with Conforma Hinge combines function, comfort, and affordability. Constructed from Bio Skin's breathable materials, the Premium J gives excellent compression without causing discomfort. A buttress on the outside of the patella prevents patella subluxation and knee dislocation. The two elastic straps that cross over the knee help seat the patella in the trochlear groove to increase surface contact area and decrease patellofemoral painPremium J with Conforma Hinge – Protection against patellar subluxation
The Bio Skin Premium J with Conforma Hinge knee brace offers a simple solution for patellofemoral pain. It combines adjustable lateral patellar tension straps and a closed patella.
The Conforma™ hinge is the perfect solution for patients who need extra stability but also want something that's both light and comfortable. Each hinge weighs only about 1 oz. Additionally, the nylon plastic uprights conform perfectly to the shape of the leg without any need for alterations. It's also ultra low profile – the hinge itself is less than 4/10 ths of an inch thick with uprights that are less than 1/10 ths of an inch in thickness.
The Premium J's Stratus material is a tri-laminate composite with high powered Lycra on the outsides and a porous membrane in the middle. It combines maximum proprioception, perfect breathability, natural temperature control and extraordinary suspension. Like all Bio Skin materials, it is hypo allergenic and 100% neoprene and latex free.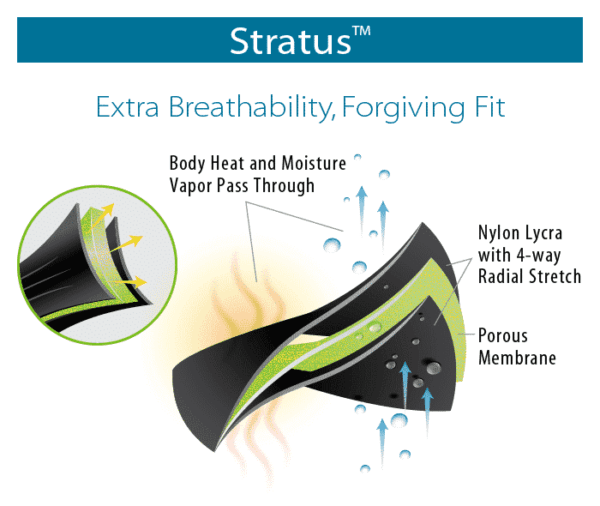 As with all Bio Skin braces, the Bio Skin Premium J with Conforma Hinge knee brace possesses the patented SkinLok™ feature. This increases adherence to the skin in the presence of perspiration, thus reducing slippage during periods of intense physical activity. With the brace remaining firmly in its intended position, the Bio Skin Premium J with Conforma Hinge knee brace will continue to be effective in reducing pain and promoting healing while your patients pursue their normal activities.
The above features ensure that the Bio Skin Premium J with Conforma Hinge knee brace is designed to be comfortable to wear over prolonged periods, thus ensuring patient compliance and improving the chance of a favorable treatment outcome.
For more information on the Bio Skin Premium J with Conforma Hinge, please watch this video:
Features and Benefits
Adjustable lateral patellar tension
Closed patella
Stratus material – latex and neoprene free
Conditions and Indications
Anterior Knee Pain
Lateral Tracking Patella
Patellar Subluxation
Patellofemoral Knee Pain

Product Questions & Answers
Q – Good afternoon, I am just having a look at Bioskin Premium J patellofemoral knee brace and on the discription I've seen on bioskin website that it can be order as open or closed patella front but I can't seem to find the open version anywhere on the internet?
A- It is my understanding that the open patella version has been discontinued. Something I would have to verify.
According to the catalogues, I have, they are all closed patella
Please
login
to post questions