Knee Arthritis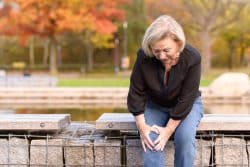 Knee arthritis is one of the most common causes of knee pain and can refer to any of three different types of arthritis in the knee joint. These are knee osteoarthritis (probably the most well known and common), rheumatoid arthritis and posttraumatic arthritis.
Knee Osteoarthritis
Knee Osteoarthritis is a result of progressive wearing down of the cartilage in the joint, exposing the bone. We provide an extensive discussion of all aspects of this form of knee arthritis here. In this post, we will focus on the other two types of arthritis in the knee.
Rheumatoid Arthritis: Cause & Symptoms
Another common type of knee arthritis is rheumatoid arthritis. Although it is common in the knee, it can actually occur in any of the joints of the body. When it does, it usually attack both left and right joints simultaneously. The cause of this form of arthritis is swelling of the synovial membrane that covers the knee joint. The result of this swelling is knee pain and stiffness of the joint.
This type of arthritis is a result of the body's immune system attacking normal healthy tissues, including cartilage and ligaments. Over a period, this process leads to swelling of the tissues and softening of the bones in the joint. Another feature of this type of arthritis is that it usually cannot be linked to a specific discrete event, such as a traumatic injury or accident. This is in direct to the third type of knee arthritis that we discuss below.
Posttraumatic Arthritis: Cause & Symptoms
This form of knee arthritis is a problem that can appear after the joint suffers a traumatic injury of some sort. In some cases, the arthritis appears several years after the traumatic injury that caused it. Nevertheless, unlike rheumatoid arthritis, posttraumatic arthritis is always traceable to an earlier traumatic injury.
Examples of the traumatic knee injuries that can lead to posttraumatic arthritis include knee fractures. Such injuries can damage the joint surfaces and result in arthritis years afterwards.
Meniscus and ligament tears can also lead to posttraumatic arthritis. In this case, the meniscus or ligament damage can lead to joint instability which in turn can lead to additional wearing of the joint. Over time, this can result in posttraumatc knee arthritis.
Risk Factors
Contributory factors to knee arthritis are age and being overweight. In some cases, family history can lead to a predisposition to developing the disease.
Symptoms Of Arthritis In The Knee
The various forms of knee arthritis have similar symptoms:
Knee pain and inflammation of the joint;
If the inflammation is severe, the joint may become stiff and swollen;
The pain, stiffness and swelling will usually be worse upon awakening in the morning, or after a sedentary period lying or sitting down;
Athletic activity such as running may exacerbate the pain;
The patient may experience a clicking, snapping or even a grinding sound when trying to move the knee;
There may be decreased range of motion of the joint;
Some patients may also experience changes in the severity of these symptoms as the seasons change.
Treatment
It is important to realize first of all that there is no fundamental cure for arthritis in any of its many forms, and the knee is no exception. However, these days there are a number of things that doctors can recommend to ease the pain and discomfort of knee arthritis and slow its rate of progression:
Minimize activities that require plenty of knee bending, such as climbing stairs. If you can afford to do so, have your home modified to eliminate the need to climb stairs;
Try to switch from high impact forms of exercise to low impact activities like swimming (for example);
Consult with a weight management expert who can advise dietary and other changes to bring about weight loss;
Consider using a hinged knee brace or knee stabilizer brace for additional knee support. Alternatively (particularly for knee osteoarthritis) an unloader knee brace can help shift the weight bearing part of the knee joint to an area with healthier cartilage;
Walking with a cane, or using shock absorbing shoes, can help to reduce the weight on the arthritic knee, or the shock transmitted through them by the act of walking;
For pain reduction, your doctor may suggest over the counter pain relievers and/or anti inflammatory medications. Be careful not to try these without checking with your doctor. He or she will be able to identify any adverse effects of these medications based on your overall medical history;
Most heat therapy has been proven effective in treating arthritic pain. A device like the Theratherm Heating Pad can allow you to conveniently apply this form of pain relief therapy in the comfort of your home on a daily basis;
Consider using dietary supplements that can replace joint cartilage and slow the rate of progression of your knee arthritis. For example, glucosamine and chondroitin (both found naturally in joint cartilage) have been reported by some patients to reduce arthritic pain.
Knee Surgery
If your knee arthritis is severe or advanced, it may not respond to the above treatments. In this case, your doctor may ask you to consider surgery as an option. A surgeon may operate to do one or more of the following:
Graft cartilage from a healthier part of the knee (or from a donor) to replace damaged knee cartilage that is the root of the knee arthritis;
Remove the synovial lining of the joint that is damaged by rheumatoid arthritis;
Reshape the bones of the knee to reduce the pressure between them;
Replacement of the entire knee joint by a metal or plastic substitute.
If you opt for surgery to treat your knee arthritis, expect to spend a significant period in rehabilitation before you can return to using your knee normally. You will likely need to work with a physiotherapist during your rehabilitation, and you may also knee to wear a knee brace or use a walking cane or crutches  for part of this time.
Suggested Knee Arthritis Products
---
Showing all 15 results